Liftmaster 8355
Premium Series 1/2 HP AC Belt Drive Garage Door Opener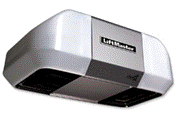 Smart, Quiet and Energy Efficient
With MyQ® technology-enables you to securely monitor and control your garage door opener and house lights with your smartphone, tablet or computer.
*MyQ mobile app is a free download requiring no annual activation fee.
PERFORMANCE
P3™ Motors from LiftMaster® are reliable, durable and powerful – designed specifically for your needs.
1/2 HP motor with belt drive system provides quiet, reliable and maintenance free performance.
Motor Vibration Isolation System (MVIS®) provides super quiet, smooth operation year after year.
Energy-efficient operation consumes up to 75% less power in standby mode.
Lifetime motor and belt warranty. 1-year parts warranty.
Call us today at 855-516-7867
SECURITY
Security+ 2.0™ with every click a new code is sent to the garage door opener so that the door opens only for you.
PosiLock locks down your door by electronically monitoring against a forced opening.
Alert-2-Close warning system provides audible and visual warnings when the garage door is about to close when using MyQ technology or Timer-to-Close.
The Protector System has safety sensors that project a light beam across the garage door opening, automatically reversing the door if anything interrupts the beam
882LM
Multi Function Control Panel
Operates the garage door opener and lights from inside the garage

893LM
3-Button Remote Control
This powerful multi-door control can operate 3 garage doors, gates or MyQ®-enabled lighting accessories
Download MyQ® app from iTunes »https://itunes.apple.com/us/app/liftmaster-myq-home-control/id456282559?mt=8
Download MyQ® app from Google Play »https://play.google.com/store/apps/details?id=com.chamberlain.android.liftmaster.myq
Make sure to call us at 855-516-7867
WARRANTY
Lifetime motor and belt warranty
5-year parts warranty
PRICE
$289.99
*not include installation
*Free shipping in Nassau and Queens only
Call 718-479-3005 for inquiry about Delivery or Installation