Commercial Garage Doors, Repairs, and Installation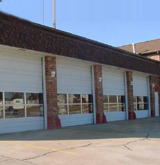 Not only does your commercial garage door have to withstand the wear and tear of the daily operations of your business, but with the winter around the corner, harsh weather conditions are an additional factor to consider. Prepare for the worst. Whether there will be hurricanes, harsh storms, or just extremely cold temperatures this winter season, doing business with a professional and experienced garage door servicing company, such as One Stop Garage Door, will help you prevent costly problems for your business.
Call us today at 855-516-7867
Commercial garage door repair
Your commercial garage door will take a beating this winter, so have One Stop Garage Door's contact handy when you need emergency repairs to bring back security and function to your damaged garage. Experience our extraordinary customer service through expert advice on which commercial garage door will help keep your business running smoothly. Our highly-trained garage door technicians are al licensed and fully insured. Our company prides itself on the affordable, high-quality and professional repair and installation services and on our commercial garage door products. Get a new door installed before the onset of winter to prevent any weather complications in your business garage improvements. One Stop Garage Door will send a technician right away, provide you with a free estimate, and can conveniently complete the project in a very timely manner that won't interfere with your busy schedule.
Garage Door Replacement and Products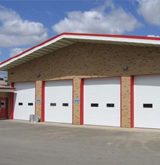 Investing in the installation of a new garage door replacement can help your business save costs in the long-run. How? Garage doors are engineered for excellence and backed by a manufacturer's warranty and a labor warranty, so there is no risk to an installation that will help to protect your business facility and properties from loss. If you have employees working in your garage everyday, then installing an insulated garage door that helps to retain warmth inside and safeguard the garage from the cold outside, will help you to save on increases in your heat expenses. If you are the type of business that uses the garage door on a regular basis for crucial operations, then an insulated garage is again the right choice for your business because it's greater durability over non-insulated garage doors will help you save on future repair expenses. However, non-insulated garage doors are the most economical choice for businesses with a tight budget.
Clopay, a preferred brand of our customers, the most extensive commercial overhead and rolling steel garage doors in the industry, as well as a complete line of top-notched commercial operators to a complement any commercial design and application. One Stop Garage Door offers Clopay since it is known for its durability, energy-efficiency, reliability, safety, and aesthetics. Another favorite brand is Liftmaster, which is renowned for providing commercial operators with the highest levels of long-lasting durability. Liftmaster commercial operator is a reliable system that is meant for industrial usage and may be used several times an hour safely since it is equipped with continuous monitored safety devices, such as photo sensing edges, which detects and reverses the garage door when someone or something enters the path of the door.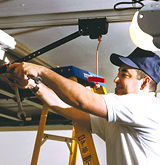 Our experienced call center professionals have years of expertise in this field and will help you explore a wide array of styles to meet your business needs and help you select the garage door that is right for you without any sales pressure. With a complete selection of all name brand performance-tested and safety-tested commercial and industrial overhead doors, including rolling-steel garage doors, you will surely find the one that best fits your business's performance expectations, image, and budget. From insulated and non-insulated garage doors for internal and external applications, to sectional-steel, high-performance and fire-rated doors, we will have the garage door that is best for your installation. Whatever your requirements, One Stop Garage Door can be relied on to provide and install high-quality, tough, long-lasting commercial garage doors to withstand the upcoming weather challenges.
Make sure to call us at 855-516-7867
One Stop Garage Door's Services
Expert Commercial Garage Door Repair
Maintenance Programs
Same Day Service
Fast Service
All Work Is Guaranteed
Evening & Weekend Service Available
24 Hour Emergencies